Dandy-188: A Censored, Handjob/Nursing Care Movie: ["VOL.2 "After The Erection In Underwear Was Ya Nurses Frustration Mount On The Job""] "Hey nurse, I saw your underwear whilst you were taking are of me and my bed. Now I have an erection: What are you going to do about it?"
Nurse to Patient: (says nothing, giggles…..moves closer to patient and places hand on patient's groin area)

So there you have the plot of this latest extravaganza from the Dandy people. As usual the nurses are cute and the circumstances verges from the ridiculous to the improbable. The whole thing is meant to excite you, to make you live your dreams.
They succeed very well in this movie. The nurses are so tender hearted when they hear and see that the patient have a hard-on, they are not simply going to ignore him. These nurses take care of their horny patients. These they do by using their hands to jerk their cocks, their lips to suck them and their pussy to fuck them. Sure they like to play with cocks more than performing their nursing duties. But who cares? Look for the Oscar performances of Runa Kanzaki and Nozomi Osawa when you watch this movie.
Size: 1.78 gb
Format: avi
Duration: 03:47 hrs [227 minutes]
Release Date: 2010-05-27
Director: Nagase Hawai
Maker: Dandy
Label: Dandy
Cast: Shinohara Nami Kanzaki Runa Oosawa Nozomi Hanyuu Arisa Komine Hinata
Audio: mp3, 48000 Hz, stereo, 128 kb/s
Video: mpeg4, yuv420p, 640×480, 29.97 fps(r)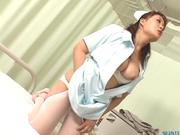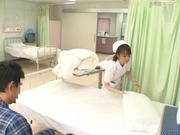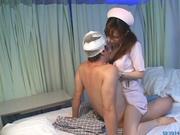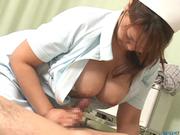 PASS = TMT[content_protector password="TMT" cookie_expires="0″]
Download or WATCH ONLINE – 1.8 GB
[/content_protector]